Austria Wirtschaftsservice GmbH digital signature
As part of its activities, Austria Wirtschaftsservice GmbH (aws) signs documents digitally using a legally valid mobile phone signature. The signatures themselves are based on the respective certificates of the signatories and are embedded electronically into the document. In addition, a signature image is generally used for visualisation.
A positive check against an electronic document signed digitally by one or more aws employees acts as clear proof that:
the document has not been changed after signature (integrity).
the document originated from the person indicated in the document ("signatory") and was signed in a legally valid manner (authenticity).
Secure publication of the signature image (figurative mark)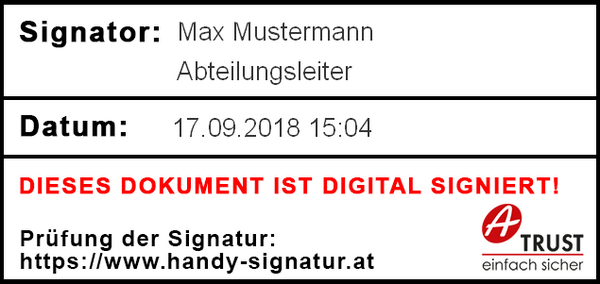 For documents it signs electronically, aws uses the following signature image, which is always positioned in a clearly visible location on the document.
Online verification of the electronic signature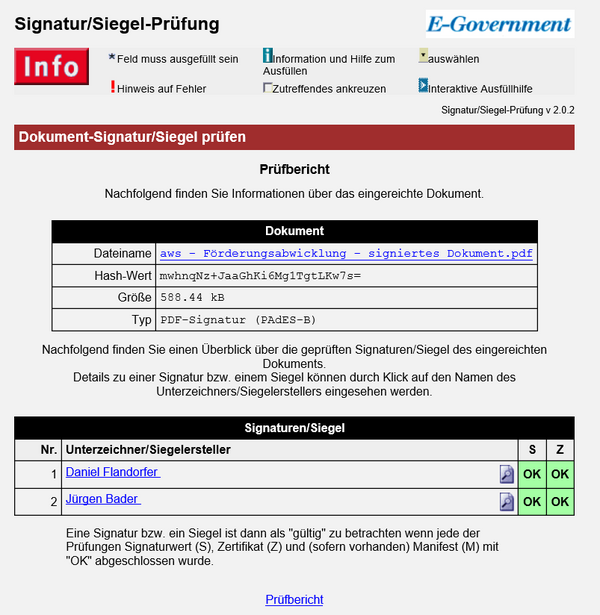 The Austrian Regulatory Authority for Broadcasting and Telecommunications (https://www.rtr.at), which regulates the Austrian telecommunications market, offers an online signature service in its capacity as a supervisory authority.
Here, you can upload a signed electronic document and verify the authenticity of the electronic signature embedded into the document:
https://www.signaturpruefung.gv.at
After the signature has been verified, its authenticity is confirmed and you can download a detailed verification report.
Verification of the electronic signature in Adobe products
As an alternative to online verification, you can also view the validity status of the embedded electronic signature straight after opening an electronically signed document in Adobe Reader and/or Adobe Acrobat.